Tank Icon Maker allows you to create your own custom icons for World of Tanks. The icons are created by combining layers and effects, which are driven by various tank properties. Create a style once, and simply re-run the program whenever an update is released. No need to wait for the author of your icons to publish an update!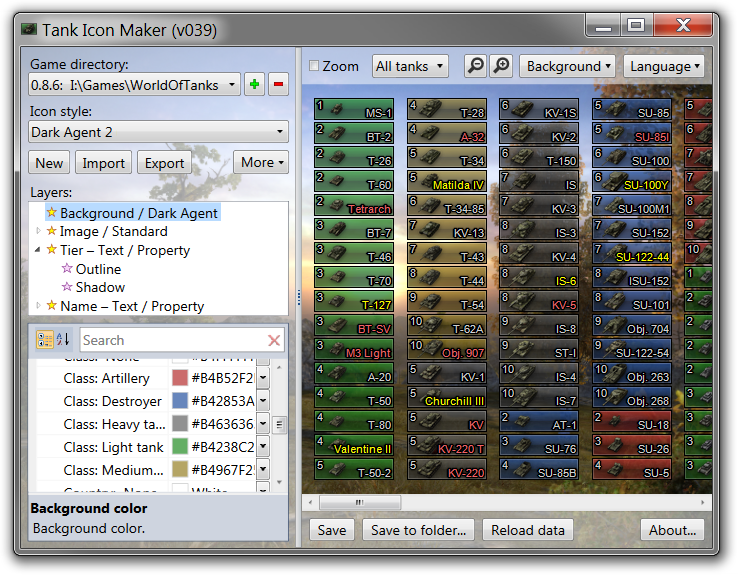 If you're not entirely happy about a particular icon style, you can change anything you want about it. For example, remove the background. Change fonts and colors. Remove the tank image, or change it to a contour icon. Add an asterisk for tanks with autoloaders. Add data on average damage for the top weapon. Add a flag representing the tank's nation. Remove everything apart from the tank name. Or use your own, customized tank names. Whatever you can think of.
Features
Tank properties are automatically extracted from your World of Tanks installation and hence are always up-to-date.
Select your favourite font smoothing mode, whether you like it crisp and pixellated or ClearTyped.
Automatically fit text that's too small or too large.
Select Roman or Arabic numbers for tank tiers.
Create icons of any size, be it a tiny 24x24 square or a 500x300 monster for your website.
Use it in your own language (translators wanted!)
Lots of built-in properties, plus a feature that exports them to .csv files:


Links
Usage
Extract the downloaded archive to a folder of your choice.
Your settings are saved to your user profile. If you want to create a fully portable installation, see the FAQ.

Run it. The main window will appear.
If it doesn't: you may need to install one of the prerequisites listed in the "Requirements" section below.

Verify that the correct path is displayed in the top left corner.
If not: click the + icon and specify the correct path.


Click the "Save" button underneath the icons. The icons will be saved to the appropriate location. That's it, time to play!!!
Requirements
Future
I don't really have much time to spend on Tank Icon Maker anymore. All you programmers out there, you're most welcome to take over and start adding whatever features you see fit! Take a look at the development section if you're interested.